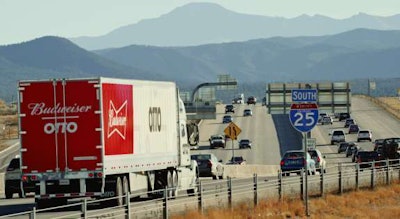 On Oct. 20, 2016, a tractor-trailer traveled from Fort Collins, Colorado to Colorado Springs with a load of Budweiser beer.
What made this trip different from others, was that for the 120 miles on I-25, there was no driver in the driver's seat.
This was a successful test of the autonomous driving system of Otto, the company owned by Uber, the passenger pickup, and delivery service. It earned Otto a spot in the Guinness Book of World's Records.
That glory faded more than a bit Monday when Uber announced it was pulling its self-driving truck program to the curb. The company said its Uber Advanced Technologies Group will stop development of self-driving trucks and focus on cars.
According to Tech Crunch, Eric Meyhofer, head of Uber Advanced Technologies Group, said in an email to employees the company had returned to testing its self-driving cars in Pittsburgh and "we believe having our entire team's energy and expertise focused on this effort is the best path forward."
The move comes after Uber became embroiled in a trade secrets lawsuit with Alphabet, the parent company of Google. A former Google employee who founded Otto was accused of patent infringement. Uber settled the lawsuit, which never went to trial, by giving Google almost $245 million in equity in Uber.
The halt of work on Otto has nothing at all to do with Uber Freight, the load-booking service. The company also said it would continue its relationships with truck manufacturers.