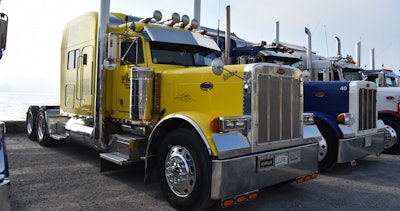 The American Truck Historical Society Heart of Dixie Chapter's annual Trucks on the Lake truck show brought out newer and older trucks alike this year. The show was held Oct. 6 on Lake Guntersville in Guntersville, Alabama.
Owner-operator Austin Smith, from Oneonta, Alabama, brought his 2000 Peterbilt 379 out to the show. Smith bought the truck from his father when he turned 21 and uses it to haul automotive machinery. It has a C15 Cat engine and an 18-speed transmission. Everything on the truck is original, including the engine, the paint job, and the interior.
"These older trucks, they're made to fix. They're not made to go and just throw away. They're not throwaway trucks. It's not like a pickup where you go and buy one and get rid of it every year," Smith said. "They're just rebuildable. Everything on it you can fix. They just last forever."
His favorite thing about the truck is how smoothly it rides and cruises.
"It rides like a Cadillac. You can sit a cup on the floorboard and it won't ever move. It's a smooth-riding truck," Smith said.
Smith says he doesn't think he'll ever buy a new truck.
"Some of these trucks here (at the truck show) are 30 or 40 years old and they just last forever. They hold up. New trucks nowadays, they don't seem to do that," Smith said.
You can check out other trucks, both old and new, from the truck show in the gallery below.