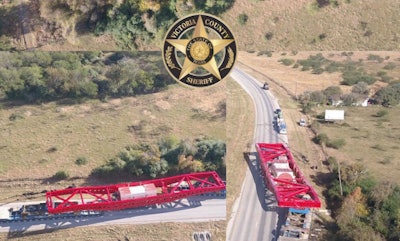 This was a bad week for two companies making especially oversized hauls.
In one instance earlier this week, a nearly 2-million-pound load seems to have steered itself off the highway and got stuck near Victoria, Texas northeast of Corpus Christi. In the other, a trucker with a large load from a former Arkansas nuclear facility strayed from the permitted route when it followed an escort vehicle that failed to exit an interstate.
On Monday Clegg Services was hauling a combined load of 1.8 million pounds on State Highway 185 near Victoria, Texas when what is said to have been an equipment failure caused the back carrier to steer off the road where its tires became stuck in the shoulder. The highway was shut down for the entire week.
On Thursday morning, a Barnhart Crane & Rigging truck driver started hauling what was reported to be a part from a test reactor near Fayetteville, Arkansas, to a location out of state. The load was listed on the permit as 407,000 pounds and was 18 feet wide and about 158 feet long.
It was traveling northbound on Interstate 49 but did not get off at Exit 58 to avoid crossing a bridge as required by the permit. Instead, the trucker followed the escort vehicle that continued on the interstate and over the bridge it was supposed to avoid.
The driver was cited for not adhering to the terms of the permit.