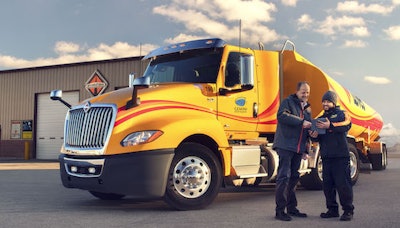 A new service partnership between Navistar and Love's Travel Stops will add more than 315 Love's Truck Tire Care and Speedco locations and 1,000-plus technicians to the International truck service network. The partnership is expected to be fully operational by the second half of this year, according to a statement from the two companies.
The partnership authorizes Love's and Speedco locations to handle a range of new, extended and used truck warranty work and to perform warranty service with repair times of three hours or less on all International Class 6 through 8 trucks. Love's locations will also accept Fleet Charge cards, guaranteeing Navistar customers get consistent nationwide parts pricing.
The partnership between Navistar and Love's creates the largest service footprint in the commercial transportation industry, according to the two companies. It brings the International service network to more than 1,000 locations in North America.