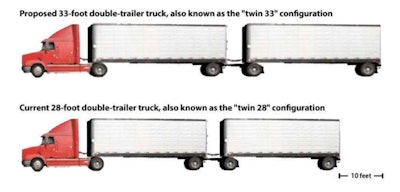 An organization representing major trucking companies and national business organizations renewed its call for longer trailers. But, it's not a change all of the industry supports.
Americans for Modern Transportation earlier this month sent a letter to leaders of the House Committee on Transportation and Infrastructure asking the standard length of double trailers be increased from 28 feet to 33 feet. In its letter to Congressmen Peter DeFazio (D-Oregon) and Sam Graves (R-Missouri) the association claims the addition of a combined 10 feet of trailer space will:
mean fewer trucks on the road and thus 53.2 million fewer hours of congestion
improve safety by 4,500 fewer truck-involved accidents
lower shipping costs by $2.6 billion
reduce stress on the infrastructure by requiring 3.1 billion fewer truck miles
improve the environment by reducing emissions by 2.9 million fewer tons of carbon dioxide from 255 million fewer gallons of fuel
There have been several attempts in the past to approve twin 33s, none of which has been successful. Last June a group of leading truckload carriers sent a similar letter to the then leaders of the same committee asking for the trailer length increase.
But, not everyone in the industry is in favor of growing 28-foot pups to 33 feet.
The Truckload Carriers Association today renewed its objection to any changes in the length of trailers.
TCA
Vice President of Government Affairs David Heller in a statement to
Truckers News
. "Advocating for a vehicle configuration that only benefits a small segment of the trucking industry would only exacerbate current industry problems such as truck parking, the driver shortage, and overall vehicle safety.
"Distracting from the much larger congressional conversation of infrastructure reform, which would correct the shortfall of funding to the Highway Trust Fund and repair our deteriorating roads and bridges, would be irresponsible of an industry that is clamoring for a fix. Constructive conversations regarding productivity should center around the growing issue of detention time, that in a new world of ELDs, has proven itself to be a data-proven problem with a solution that may actually make a difference on many issues that impede the productive delivery of this nation's freight."
When the topic of longer trailers was considered last May, the Owner-Operators Independent Drivers Association spoke out against it. In a letter congress, the OOIDA said twin 33s would benefit large trucking companies but "adversely impact" smaller trucking businesses and reduce highway safety.
Drivers themselves don't care for the idea of bigger trailers either. When the topic came up almost exactly two years ago, results of a poll of Truckers News readers found 73 percent opposed to 33-foot twins, 16 percent in favor and 11 percent said they didn't care.
In the past, the Teamsters have weighed in against the longer trailers.
The AMT is a coalition of major trucking companies and private fleets including Estes, FedEx, UPS, XPO Logistics, YRC, and Reddaway. Members also include business organizations such as the National Association of Manufacturers and major shippers like Amazon.