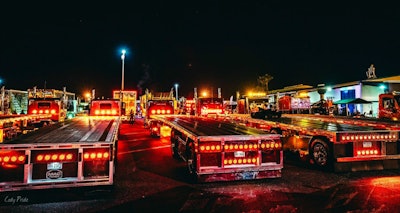 Wildwood, Florida is the place to be this weekend if you're a fan of custom trucks.
The 21st annual 75 Chrome Shop Truck Show Extravaganza opens to truckers Friday, and Saturday for the public. It runs through Sunday at the shop located at 419 E. State Road 44 (Exit 329 on Interstate 75).
The show — free and open to the public — is loaded with activities, including a convoy to the Bikefest in Leesburg, about 12 miles away. It includes food, games for kids and other entertainment.
Truckers compete for $25,000in prizes in what organizers call their "non-judged" show. Prizes will be awarded for a People's Choice Award and the "Prime Shone" trophy. Trucks will also be selected to appear in 75 Chrome Shop's 2020 calendar.
The complete schedule includes:
Friday
9 a.m. to 6 p.m., contestant parking
6:20 p.m., convoy departs for Leesburg Bikefest
8 p.m., convoy returns to 75 Chrome Shop
Saturday
9 a.m., show opens
Dusk, truck light show
10 p.m., show closes
Sunday
8 a.m., show opens
11 a.m., contest prizes awarded
Afternoon, trucks depart