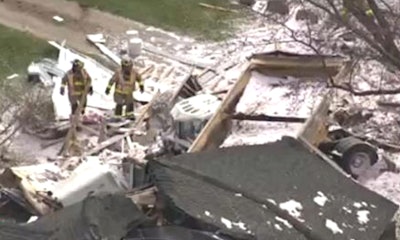 A tractor-trailer that blew a tire and struck a pickup truck, left the highway and destroyed a home north of Detroit Wednesday before coming to a stop in a nearby cemetery.
A spokesperson for the Macomb County Sheriff's office told Fox 2 News in Detroit that the crash happened at about 4 p.m. Wednesday when the tractor-trailer blew a tire, causing the driver to lose control, and cross into the eastbound lane of 26 Mile Road. The rig hit a Ford F-250 pickup truck, left the highway and drove through Charles Vanfleteren's home. It continued on, knocking over several headstones in the adjacent Meade Cemetery.
"I don't know when it is going to set in" Vanfleteren told a TV reporter. "Because I am used to watching this on TV and seeing it happen to somebody else."
The truck driver, who was not identified by police, was uninjured and the home was empty at the time of the crash.