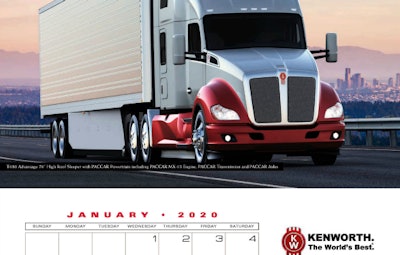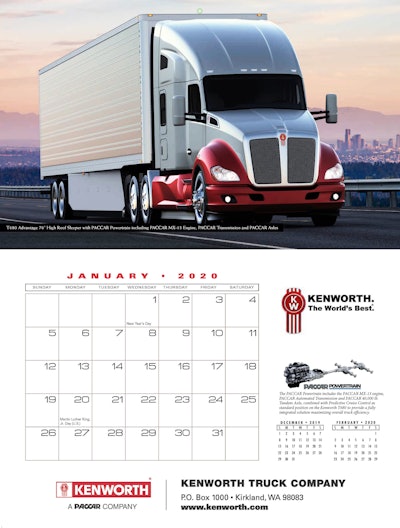 The 2020 Kenworth calendar, which features images of the company's on-highway, vocational, traditional and medium-duty trucks, is now available for purchase.
A six-page wall calendar features the on-highway flagship Kenworth T680 Advantage 76-inch sleeper, a T680 day cab with an electric powertrain, a T880 mixer, T880S dump truck, a W990 76-inch mid-roof sleeper, and a K370 cabover mixer. The poster-sized wall calendar is 26-1/4 inches tall by 28 inches wide and can be purchased for $16.95.
An appointment calendar highlights a Kenworth Truck of the Month, including the six wall calendar images, along with a T680 52-inch mid-roof sleeper, T880 day cab, W990 wrecker with a 40-inch sleeper, legacy W900L Studio Sleeper, T370 6×6 and K270 cabover and T370 conventional duo with van bodies. The appointment calendar is 9-3/4 inches tall by 13 inches wide and can be purchased for $11.95.