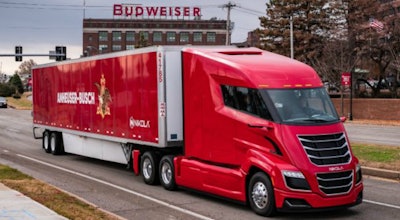 Anheuser-Busch, in partnership with Nikola Motor Company and BYD Motors, completed Thursday, Nov. 21, a zero-emission beer delivery in the brewer's hometown of St. Louis.
Nikola's hydrogen-electric truck picked up the load of beer and delivered it to Anheuser-Busch local wholesaler partner, Lohr Distributors, marking the first commercial delivery using a Nikola hydrogen-electric vehicle.
Lohr Distributors then delivered the beer to the Enterprise Center, home of the National Hockey League's St. Louis Blues, on a BYD electric truck.
Last year, Anheuser-Busch placed an order for up to 800 Nikola hydrogen-electric powered semi-trucks and announced a pilot project with BYD in California last month at four Anheuser-Busch distribution facilities across southern California. The 21 BYD electric trucks, as well as a 958.5 kW solar array to charge the vehicles, will be implemented this year as the largest Class 8 electric truck deployment in North America.
This is the second time the King of Beers people have made trucking headlines. On Oct. 20, 2016 a load of Budweiser was hauled from Fort Collins, Colorado to Denver by an autonomous truck created by Otto.