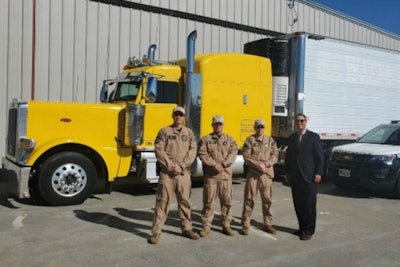 A 2010 Peterbilt and a Great Dane trailer seized in a drug bust by the Texas Department of Public Safety Highway Patrol several years ago is about to become a mobile command post.
The driver of the tractor-trailer was arrested in March of 2018 and charged with the second-degree felony offense of possession of marijuana. The driver pleaded guilty to the charge in May of 2019 and the truck was forfeited to the DA's office in September of 2019. The 100th Judicial District Attorney awarded the rig to the DPS Aircraft Operations Division
According to DPS officials, they plan to station the vehicle in Austin and use it to haul a mobile command unit and storage facility for the different aircraft it uses.
"Thanks to the combined efforts of the Texas DPS Highway Patrol and the Criminal Investigators Division, as well as 100th Judicial District Attorney, Luke Inman, we are able to put this support vehicle to good use," said DPS Lieutenant Pilot Cody Klaehn. "This equipment will give us the ability to better serve the citizens of Texas by responding to an emergency scene to support our personnel and aircraft. This on-site command post will be crucial for communication and coordination as it is deployed to emergency scenes."