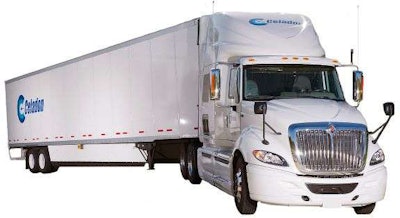 This week week, Ritchie Bros. will begin auctioning off truck equipment from defunct Celadon Group, which closed its doors in December after filing for Chapter 11 bankruptcy.
Since announcing the liquidation last week, Ritchie Bros. has been busy adding Celadon trucks and trailers on its website, which quickly grew from 487 items on Wednesday to 1,048 items by late Friday. The current line-up includes model year 2015-2018 tractors.
Zac Dalton, Ritchie Bros. director of finance, said he anticipates most of this equipment will be sold through Ritchie Bros.' unreserved public auctions in the United States and Canada next month.
"All items sold at public auction will be sold without any minimum bids or reserve prices," he said. More information about what assets will be selling where will be available in the coming weeks on Ritchie Bros. website, he says.
Celadon equipment will begin selling Wednesday, Feb. 26 at Ritchie Bros.' Phoenix auction. Other auctions will follow in Denver, March 4; Fort Worth, Texas March 10; Las Vegas March 12; Columbus, Ohio March 17; Sacramento, California March 18; Chicago March 19; Chehalis, Washington March 26; Nashville March 20; North East, Maryland March 24 and Atlanta March 27.
Prospective buyers can begin online bidding now through the company's new PriorityBid service. Similar to bidding online through eBay, competitive bids will be made at preset increments. Customers can increase their PriorityBid if it is surpassed by another bid during the auction. PriorityBidders automatically win tying bids.