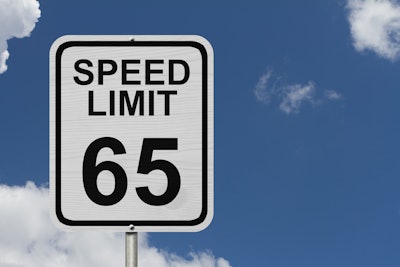 Legislation that would require speed-limiting technology be used on commercial vehicles manufactured since 1992 has a new life thanks to a bill introduced earlier this week in the U.S. House of Representatives.
A bill first introduced in 2019 was reintroduced Tuesday, May 25 by Rep. Lucy McBath (D-Georgia) and Rep. John Katko (R-New York). Katko, who represents the greater Syracuse area, is a member of the Problem Solver Caucus, which focuses on bipartisan solutions to issues.
The Cullum Owings Large Truck Safe Operating Speed Act would, if passed and signed into law, require all new commercial motor vehicles to be equipped with speed limiters and require existing speed-limiting technologies already installed in commercial motor vehicles manufactured after 1992 to be used while in operation. The bill, named for a 22-year-old Atlanta resident who died in a collision in 2002, requires the maximum safe operating speed of commercial motor vehicles not exceed 65 miles per hour, or 70 miles per hour with certain safety technologies -- adaptive cruise control system and an automatic emergency braking system -- installed.
RELATED: NTSB's Most Wanted List includes speed limiters, collision avoidance technology
The legislation is endorsed by the Truckload Carriers Association, the Trucking Alliance, AAA, the Institute for Safer Trucking, Road Safe America (founded by Cullum Owings' father) and the Safe Operating Speed Alliance.
"Millions of motorists are within a few feet of 80,000-pound tractor-trailer rigs each day and there is no reason why that equipment should be driven at 75 or 80 or 85 miles per hour," said Steve Williams, chairman and CEO of Maverick USA in Little Rock, Ark., co-founder and president of the Trucking Alliance and also a former chairman of the American Trucking Associations. "This legislation will reduce the severity of large truck crashes and make the nation's roadways safer for our drivers and all of us."
RELATED: Speed limiters: ATA tells Buttigieg 'yes', OOIDA says 'no'
However, the Owner-Operator Independent Drivers Association opposes the use of speed limiters. Earlier this year the organization restated its opposition to the technology, saying, "OOIDA has long opposed efforts to mandate speed-limiting devices because they make roads less safe. Speed limiters increase congestion and speed differentials between trucks and cars, which ultimately lead to more crashes. Additionally, arbitrary speed limits make it difficult for truck drivers to switch lanes to accommodate merging traffic at entrance ramps – or to merge themselves."