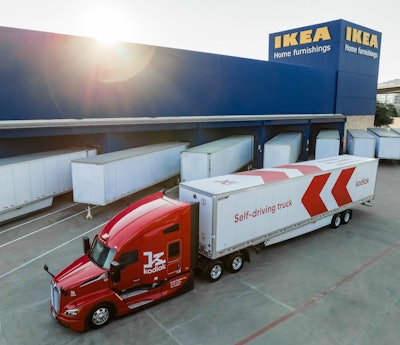 Ikea
IKEA, the Swedish maker of popular ready-to-assemble furniture, is the latest company to test driverless truck deliveries in Texas using Kodiak technology.
The pilot program began in August and includes a Kodiak autonomous heavy-duty truck transporting IKEA products seven days a week between the IKEA distribution center in Baytown near Houston and a store in Frisco, which is located near Dallas.
The self-driving truck has a driver behind the wheel who picks up a loaded trailer at the distribution center each morning and oversees the autonomous delivery to the store by late afternoon.
RELATED NEWS: Werner latest carrier to partner with self-driving truck firm Kodiak
"We are proud to be working with Kodiak to achieve our ambitious goals of being at the forefront of innovation and building capabilities for future transportation," said Dariusz Mroczek, category area transport manager for IKEA's supply chain operations. "Kodiak's technology will contribute towards our objective to put the driver in focus in the transition towards automated transportation and towards our road safety agenda."
Kodiak has adding new lanes. These include the recently announced launch of commercial operations between Dallas and Oklahoma City and service between Dallas and Atlanta. Kodiak has been delivering freight daily between Dallas to Houston since mid-2019, and delivering freight between Dallas and San Antonio since mid-2021.
RELATED NEWS: Pilot teams with Kodiak to provide autonomous truck services