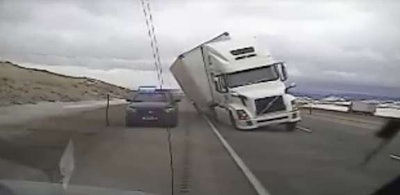 What are the odds that:
High winds would topple a tractor-trailer as it motored down I-80 in Wyoming Tuesday, Feb. 7?
It would land on top of one of three Wyoming State Trooper cars parked on the side of the highway?
A cop car camera would capture the entire mishap?
Well, all of that happened as Wyoming troopers were on the scene of an earlier accident. No one was in the trooper car at the time of the crash and the two people in the truck were not injured.
The text with this Facebook post suggests high wind advisories were in effect when the truck was blown over.