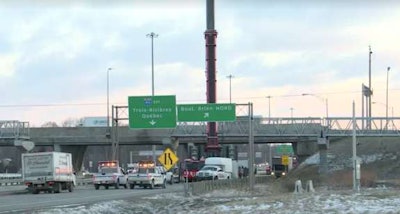 Police officials in Quebec, Canada continue to investigate the spectacular truck crash caught on video and showing a raised dump-end trailer smashing into a pedestrian walkway over eastbound Highway 40 earlier this week.
However, some details have emerged. Daniel Thibodeau, a spokesman for the Quebec City police department, told Global News that witnesses report seeing the trailer in the raised position as much as a kilometer before it struck the overpass. Thibodeau also said it has yet to be determined if the trailer was raised by human error or a mechanical failure.
The name of the driver involved has still not been released.