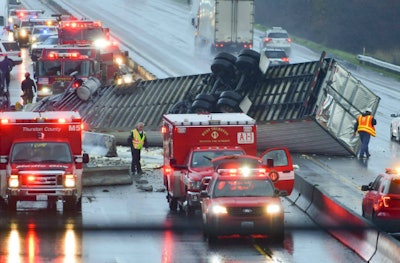 A tractor-trailer accident on Interstate 5 south of Olympia, Washington tied up traffic for several hours Wednesday morning, Nov. 28.
At about 8:30 a.m. a northbound vehicle reportedly lost control on the rain-soaked highway and the driver of the tractor-trailer tried to avoid hitting it, but lost control, crossed into the southbound lanes and struck a FedEx truck, according to a tweet from Trooper Johnna Batiste. Another vehicle was struck by debris from the accident.
Shortly after this accident, there was a report of a hit and run in the backup, according to the Thurston County Scanner, News and Weather blog. A car was reported to have pulled over after hitting another vehicle and the driver fled on foot into the woods.
There were no reports of life-threatening inuries and the names of the drivers involved were not released.