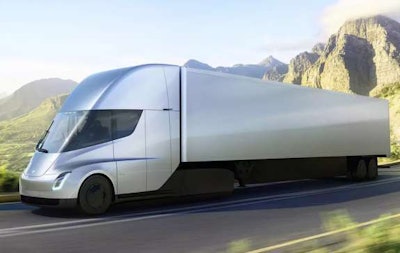 FedEx Monday confirmed it has placed a reservation for 20 Tesla Semi trucks.
FedEx joins a group of fleets that includes UPS, PepsiCo, Anheuser Busch, J.B. Hunt, Walmart, Ruan Transportation Management and others that have reserved the all-electric rigs.
Tesla founder CEO Elon Musk has told analysts he expects to sell 100,000 units or more annually by 2022.
Tesla has not confirmed total truck orders to-date, but speculation swirls that number could be anywhere between just more than 1,000 to several thousand more.
FedEx Freight president and CEO Mike Ducker says the company's investment in the Tesla trucks is part of its "commitment to improving road safety while also reducing our environmental impact."
Tesla claims its new big rig, which is scheduled for production next year, will deliver a better experience for truck drivers, while increasing safety and significantly reducing the cost of cargo transport.