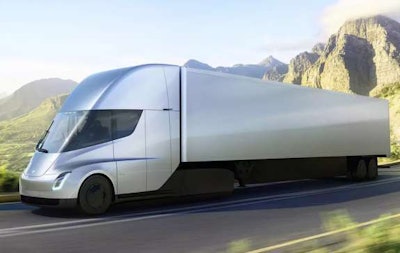 Ruan Transportation Management Systems, which is located in Des Moines, Iowa, has reserved five of Tesla Motors' new electrically powered tractor-trailers for testing and delivery in 2019.
"These new trucks stand to revolutionize interstate transport and change the way we do business," said James Cade, vice president of fleet services Monday. "Ruan has always been a leader in efficient transport and logistics, so it makes perfect sense to explore what these trucks could do for us and our customers."
Ruan plans to add at least five Tesla semis to its fleet in 2019 and will test vehicle prototypes in California before they are delivered, according to a statement from the company. Ruan and Tesla have been in frequent communication throughout the development process, with Tesla inviting Ruan representatives to take part in numerous on-site meetings and discussions in the six months prior to the November unveiling, according to the Iowa company.
The price is about $180,000 per truck.
"We have many questions as the trucks continue to be developed," said Cade. "But we are excited for the potential they hold and are working directly with Tesla to get the answers we need before putting this technology to use.
"It is our hope that using the Tesla tractor-trailers will eventually reduce our costs, keep our drivers and cargo safer and help us continue our tradition of industry-leading service and reliability."