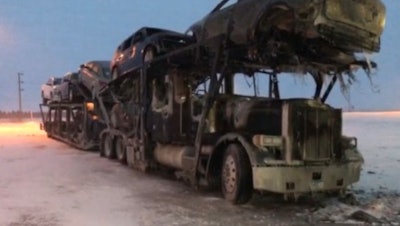 A tractor-trailer loaded with vehicles was destroyed by fire at an Interstate-94 rest area near Bismark, North Dakota Thursday morning, Feb. 7.
Fire crews first responded at about 4:30 a.m. to the rest stop about 10 miles east of Bismark and extinguished the blaze. They returned later that morning as fire reignited in the truck's sleeper.
Bismarck Rural Fire Chief Michael Voight told KXMA-TV "at least $150,000 worth of damage was caused by the fire." The driver, who was not identified, was not injured.
The cause of the fire was not determined.
Fire destroys four trucks in Massachusetts
In an unrelated incident, several tractor-trailers were destroyed in a fire in Chicopee, Massachusetts Thursday morning.
WWLP-TV reports the four rigs were parked at Regency Transportation, a family-owned carrier serving the Northeast and Mid-Atlantic states. The TV station reports the fire started about 12:45 a.m.
Investigation into the cause of that fire continues.