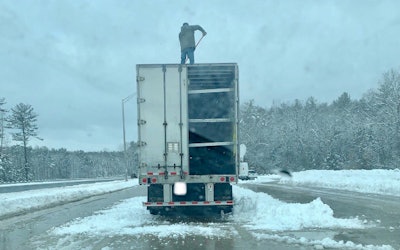 Troopers in New Hampshire Monday stopped truckers on Interstate 93 to have snow and ice removed from the roofs of their trucks and trailers.
A total of 19 trucks were stopped and inspected on northbound I-93 near Windham. WMUR-TV reports several drivers got atop their rigs to remove the snow, while most contacted someone else to do the job.
This is the latest effort by the New Hampshire State Police to enforce Jessica's Law, which requires motorists to clean ice and snow off their vehicles before driving. The law, passed in 2002, is named for Jessica Smith who was killed when ice slid off a tractor-trailer, hit a box truck, which in turn hit Smith's car.
In February New Hampshire troopers wrote 56 tickets for violations of the law and issued 212 warnings.
Reactions on social media was mixed when video of trucks being cleaned appeared.
"So drivers are being subjected to performing an unsafe act which comes under OSHA Fall Protection. Anything over 6 foot and 4 foot without proper harness, lanyard, nets, hand rails. "Stop work authority" is allowed without recourse. Better hope no one slips, trips, or falls," tweeted one man.
"Is this in compliance with OSHA rules on height or are truckers just second class citizens to you? Now you see why I refuse to haul towards the northeast. First trucker to get injured or die from falling off and I hope you're ready for lawsuits," wrote another.
"If the state police are so worried about safety why are they endangering the lives of truckers. The states need to install free snow clearing equipment to help keep truckers safe. STAY OUT OF NEW ENGLAND. Truckers are overtaxed and underappreciated in all liberal state," wrote another.
But, there was also praise for the troopers.
"Nice! I always wondered if the trucks had to follow the same rules. Glad to see this, following a semi full of snow is like tailing a blizzard," read one tweet.
"No one forced them up there. If the drivers didn't want to clear the snow, I'm sure they had the option to park it and wait for it to melt. Maybe next time they clear the snow before they get on the road," said another.
NH State Police are pulling truckers off the highway and making them clear the snow off their roofs and trailers. #wmur @WMUR9 pic.twitter.com/pZDpnNZNY4

— Ray Brewer (@RayBrewerWMUR) March 4, 2019
#TroopB was out once again enforcing Jessica's Law. This Trooper stopped 21 vehicles in 4 hours issuing 19 traffic tickets, 17 were violators of #JessicasLaw. All operators were required to clear their vehicles of snow & ice before continuing on. He also arrested two individuals. pic.twitter.com/1uRL30855p

— NHSP (@NH_StatePolice) February 13, 2019