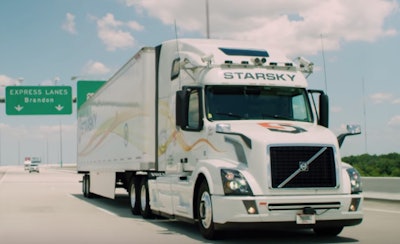 For better or for worse, these are busy days in the autonomous/driverless/self-driving truck world. These videos prove that point.
Starsky Robotics just set a land speed record for a driverless truck for going 55 mph on the Selmon Expressway in Florida. (Note, that the truck had the highway to itself.) Last week, Starsky said it was recruiting drivers for jobs that could one day lead to operating a truck without being in it.
Across the Atlantic and in Gothenburg, Sweden, Volvo showed off Vera, its driverless and electric vehicle, moving a cargo container.