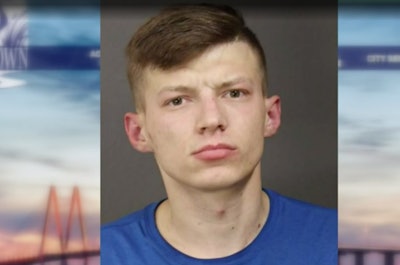 The 23-year-old man charged with the deaths last week in New Hampshire of seven members of a Marine Corps veterans' motorcycle organization reportedly had an accident while driving an 18-wheeler in Texas earlier this month. Additionally, the record of the company he drives for has also come under scrutiny.
Volodymyr Zhukovskyy, who lives in West Springfield, Massachusetts, pleaded not guilty to seven counts of negligent homicide in a Lancaster, New Hampshire court Tuesday. He remains in jail.
At the time of the June 21 crash, Zhukovskyy was driving a 2016 Dodge 2500 with a flatbed trailer attached for Westfield Transport, a five-truck operation in West Springfield, Massachusetts. Federal Motor Carrier Safety Administration records show the company has had 48 inspections in the past 24 months. In that period, it had 36 vehicle inspections, in which six trucks were placed out of service. It also had 48 driver inspections, during which there were 10 incidences in which a driver was placed out of service.
HDH-TV in Boston reports the Baytown (Texas) Police Department told them Zhukovskyy claimed a driver cut him off when he crashed a tractor-trailer June 3. He told police he lost control of the tractor-trailer he was driving on Interstate 10, and he was not charged in the incident.
Zhukovskyy has also run-ins with the law for drug and alcohol-related issues. Most recently he was arrested May 11 in Connecticut.
The victims in the June 21 crash on Route 2 were members or supporters of the Marine JarHeads, a New England motorcycle club that includes Marine veterans and their spouses. Four were from New Hampshire, two from Massachusetts and one from Rhode Island. Three other people were injured in the crash.