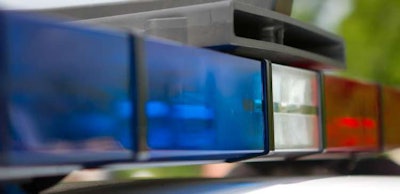 UPDATE: The suspect in a four-county police chase late last week was struck and killed Saturday, Oct. 17, after having been released from jail.
Derris Marquis Kennedy, 26, of Alabama was struck by a car and killed at about 1:30 a.m. Saturday while walking along southbound Highway 41 near the eastbound Highway 180 connector in Fresno. The driver of the car was hospitalized with what authorities said were major injuries.
Our original story:
A man driving a tractor-trailer late last week led police in California on a four-county chase that ended with the big rig toppled and the man who was behind the wheel trying to carjack motorists before being arrested.
The chase started near Stockton and ended when the tractor-trailer crashed on southbound Interstate 5 after hitting three other vehicles. The driver of the truck, Derris Marquis Kennedy, 26, of Alabama, is said to have been driving erratically before crashing. He then exited the truck and tried to carjack other vehicles before police arrived. Kennedy was arrested after a scuffle with the cops.
Kennedy is facing numerous charges, including carjacking, reckless driving causing injury, hit-and-run, resisting arrest, and battery on a peace officer.
Police say it was unclear if Kennedy was the licensed driver of the truck or what company that truck belonged to.