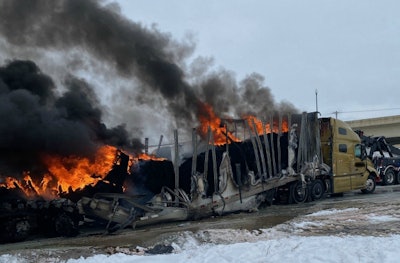 Twenty-nine vehicles, half of which are said to have been tractor-trailers, were involved in a massive pileup on Interstate 94 east of Monticello, Minnesota Thursday morning, Nov. 12. The crash, which occurred in winter weather conditions, sent at least nine people to the hospital.
The collision and fire at about 9 a.m. shut down traffic on I-94 for several hours.
Monticello is located just northwest of the Twin Cities.
The Minnesota State Patrol said the chain-reaction crash and resulting fires may have been caused in part by a tractor-trailer that had stopped in traffic so the driver could clear snow from the windshield.
The State Patrol is looking to identify the driver or company of the stopped semi. Anyone with information is asked to contact the Minnesota State Patrol St. Cloud District Office at 320-223-6666.