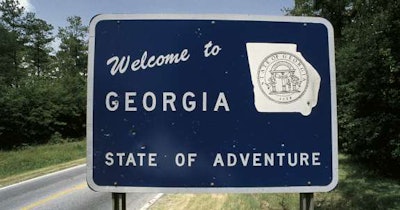 I can recall three places that really gave me the creeps.
The second place was (and in all likelihood still is) just north of GA Highway 376 between US Highways 41 and 129. I had to head up that way at about 1:00 one morning to get some bell peppers (that had to be in Lakeland, FL by 8:00 that morning).
I headed north on some country road off GA 376 to a "T" intersection. It was pitch dark except for my headlights. No town was nearby. The place was devoid of human activity. A graveyard loomed out of the dark on the left of the "T" intersection, and the sight of it on the periphery of the headlights suddenly gave me the creeps.
I turned right at the "T" and headed to the farm for the bell peppers. When I came back, I had to make a left — back south toward GA 376–at the graveyard intersection. I had the bright beams on. The headlights swung across that graveyard and lit it up, and I turned my eyes away from it because I had an eerie feeling about what I'd see if I looked. A big part of it was that I was the only person who'd see whatever it was I was afraid of seeing: ghosts, devil worshippers, grave robbers, any manner of ne'er-do-wells frolicking in what seemed like such a foreboding place, or what have you.
The first place was also in Georgia, most likely on US Highway 27 just south of Ft. Oglethorpe (in the far northwestern corner of the state).
I was driving southbound late on the night of a full moon and suddenly found myself next to what must've been the Chickamauga Memorial Cemetery: rows and rows of gravestones standing out in the moonlight's bright relief against the darker landscape: thousands and thousands of souls who died violently in Civil War battles (or battles of the War of Northern Aggression).
I figured that if ghosts are real, they'd be in a place like that, and if they walked about, it'd be on the night of a full moon. I wanted to look because it was an awesome sight; but again, I didn't because I was afraid of what I'd see.
The third place was also–you guess it–in Georgia: Andersonville, on GA Highway 49. I drove by the place in broad daylight; but knowing what had happened at the place — and, again, figuring that if restless souls remnant of agonizing deaths still roam the earth, that's where they'd be–I still got the creeps just driving by.
Truck drivers get treated to thousands of memorable sights: too numerous to even begin mentioning. As well, I'm a curious fellow by nature. But some sights seem like gateways to dark, bottomless mysteries in which a trucker can get lost if he (or she) peers too hard at them to see whatever it is he (or she) might see.
Once upon a time I was fascinated by such mysteries. But the real, conscious life is scary enough; I needn't any longer bother with the mysterious unknown that titillates what primal terrors lurk in my own subconscious. When that which both frightens and beckons rears its ethereal face before me, I just keep my eyes on the road and drive on by.
We live, and we learn, I guess. A man eventually outgrows the thrill of scaring the heck out of himself.
Been on a Haunted Highway? Tell us all the ghoulish details, please.
Learn more about the haunted places of Georgia.
Even more spooky places in the Peach State.