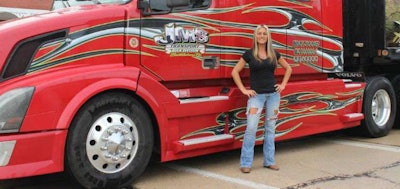 For Jessica Samko, living life under the relentless cameras of a reality show means she's forced to hide her roots — literally.
"One thing I have to do for the show is to make sure I keep my blonde hair colored and the highlights even so they look the same in every episode. That's not so easy to do when you are on the road while filming an entire episode," she says with a laugh.
Samko appeared in season six of the A&E network's "Shipping Wars," which concluded in August. She's currently being filmed for season seven, which airs Tuesdays at 10 p.m. ET, starting Nov. 18. Thanks to her appearance on the show, coming after winning a finalist spot in Truckers News sister publication Overdrive's 2013 Most Beautiful contest, the Pennsylvania-based owner-operator has become one of trucking's most popular personalities this year.
She's still getting used to being on the reality show and the attention that follows. "Sometimes people will recognize me at truck stops and ask me about the show," Samko says. "Truckers will recognize my truck and wave or blow their horn,"
Dubbed "The Road Warrior" on the show, Samko scrambles to outdo cast members by bidding to haul oversized, odd or outright bizarre loads. Though she drives a 2008 Volvo 780, most of the show's other contestants drive trucks below Class 8, some of them pickups.
Before being selected for the show, Samko had been hauling containers into and out of the port at Newark, N.J., with her 2008 Volvo 780 under the operating authority of DMS, owned by her fiancé, Derek Smith. Now she runs under her own authority as JMS Transport. She goes back to hauling containers when she's between the show's production.
The "Shipping Wars" cast also includes original cast member Marc Stringer ("The Big Rig"); an owner-operator duo, Todd and Tamera Sturges ("The Double Threat"); Jennifer Brennan ("The Cowgirl"); Jarrett Joyce ("The Rookie"); and Dusty Davies ("The Prodigy"). They bid for jobs listed on uShip.com in a reverse auction format. The goal is to win the bid and to earn positive client feedback. The tricky part is not only to make deadline but to make money, too.
Working while on the show has been an adventure filled with stressful hauls and the pressure of being constantly followed by a camera crew. Her image, that of a tough talking, f-bomb-dropping, abrasive trucker, is not exactly how she sees herself.
"I think my friends would say I'm more of the goofy, friendly type, but I definitely can swear with the best of them. That doesn't mean I'm hard-hearted, though," she says. Even throughout some of the show's more bizarre situations, she found herself connecting with shippers more than she expected.
"I understand that the cargo is important to them," says Samko. "That means it's important to me, too."
"That's just plain weird," says Samko. The owner didn't like it either. "I don't like to take pieces off my husband," she said.
Samko takes it all in stride, even the fact that her client was married to a roller coaster. "Whatever it takes," she says and got the job done.