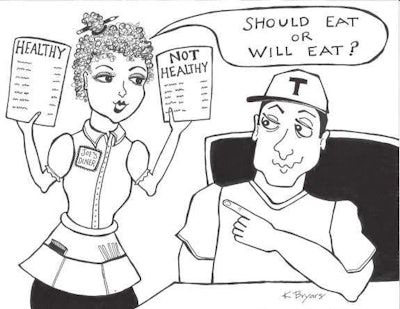 The life of a trucker can often boil down to making the right choice. Never is this truer than during that precious time you stop for a meal.
The angel on your right shoulder whispers, "Salad bar. Skim milk. Skip dessert."
The devil on your left shoulder screams, "Chicken fried steak! Extra gravy! Large Mountain Dew! Hot fudge sundae!"
In Truckers News most recent carton caption contest, that dining dilemma was appropriately addressed. We liked "Loose Cannon's" suggestion: 
"'Should eat', or 'will eat'?"
Other folks offered:
"All of the above!"
"This is the normal peoples menu. And this is Michelle Obama's menu, in which case hope you enjoy lettuce , toast and water.
"
"Cool your jets, Casanova! Which will it be … right, or left?
"
"Oh! You're a trucker. Well, in that case, the All-You-Can-Eat buffet is right over there …
"
"Do you have good taste or do you want it to taste good?"
Thanks for all of your suggestions, and watch for out next cartoon caption contest, which will be posted shortly.