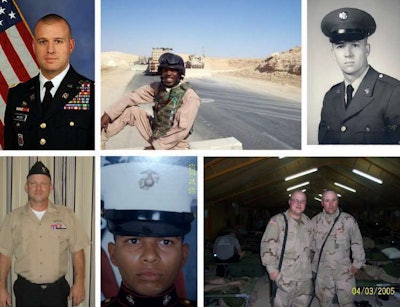 It was on this day at 11:11 a.m. in 1918 that the armistice to end World War I was signed. A year later, President Woodrow Wilson proclaimed it as a national day of remembrance of those who died in what came to be called The Great War. Later the day came to honor all U.S. military veterans.
On Veterans Day 2014, there are more than 20 million American men and women who have served, and now work in the trucking industry. At a time of a major shortage of drivers, companies are looking to veterans to help keep trucks moving.
Earlier this year Forbes magazine listed truck driving as one of the top 10 careers for veterans. Today many trucking companies have special programs to attract and train veterans for the driving life.
J.B. Hunt Transport (ranked fifth on Commercial Carrier Journal's Top 250 list of companies) of Lowell, Ark. is one such company.
"J.B. Hunt Transport was founded by a veteran who believed in providing safe, solid employment opportunities for those who were willing to work hard," said Stan Hampton, VP of driver personnel at Hunt. "We carry that philosophy on today through our Hunt's Heroes program, a fast-track program for veterans entering into the transportation industry. We believe veterans and our industry are a natural fit and our decision to support educating vets on the industry and hiring them into it was an easy one to make. Mr. Hunt always said, 'Good partners attract good partners', and J.B Hunt is proud to be a solid partner for veterans."
In many ways, the trucking industry and the individuals who are part of it are honoring veterans:
* One driver had a truck created in recognition of his time in the U.S. Marine Corps and his service in Desert Storm, while another reminds POW/MIA they will not be forgotten.
* The American Trucking Associations today thanks veterans for their service and asked that more be done to help them find productive jobs in the industry it represents.
* A number of trucks stops and restaurants are showing their gratitude to veterans with free or reduced price meals.
* Efforts are under way for the annual drive to place wreaths on the graves of veterans around the country.
* Today, buying a coffee or other hot beverage at a Pilot Flying J will help a veterans charity.
[gtbutton link="http://www.truckersnews.com/veterans/"]See Truckers Who Served[/gtbutton]