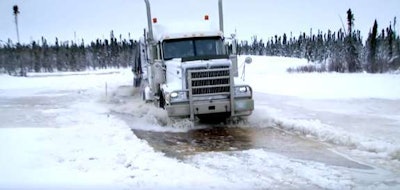 Episode IV of the current season of Ice Road Truckers arrives tonight at 10 Eastern and 9 Central on the History Channel.
To get up to speed, here's a quick recap of last week's show:
With a healthy truck, Lisa Kelly had an extra incentive to make money to pay for repairs. With a truck blocking her way on a steep grade, Kelly did the only responsible thing: Told the guy to get out and drove it up the hill for him.
Alex Debogorski came upon a man walking along the ice road and gave him a lift. He also gave the man a bit of a start as he drove across a long lake crossing.
After rescuing a family whose car was stuck in the snow, Art Burke would get stuck … in traffic as a crew repaired a deep rut in the ice road.
Todd Dewey had a comparatively easy trip even if it included a daunting crossing on questionable ice.