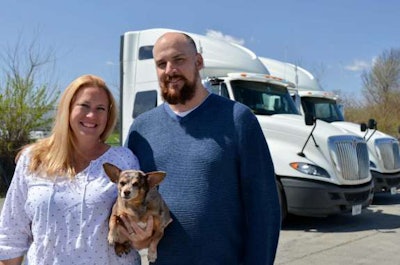 Editor's Note: Between now and Friday, Aug. 24, Truckers News will profile the finalists in its annual Mike O'Connell Trucking's Top Rookie Award, which will be presented at the Great American Trucking Show in Dallas.
___
When Adam Cobb considered his future in 2017, there were quite a few unpleasant things looming. The Navy veteran was having trouble adjusting to civilian employment, and his current job as a prison guard was difficult thankless work. Neither he nor his wife had strong retirement plans through their employers, and they had a substantial amount of debt. The couple often talked about retiring, buying an RV, and traveling across the country, but they realized with their current jobs, it would likely never happen.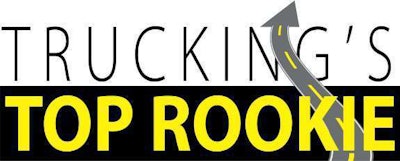 One day, Cobb was speaking with one of his coworkers, a former truck driver who had spent more than 30 years on the road. The conversation sparked Cobb's interest in trucking, especially now that his two children were grown, but he still had reservations.
"I told him I didn't want to leave my wife," Cobb says. "And he said, 'Well, take her with you. Be a team driver.' And I didn't know that was an option. So I thought about it. It seemed like a really good idea. The industry's right now—it's a good market. So I pitched the idea to my wife, and we ran with it."
Both Cobb and his wife, Angela, graduated from Sage Truck Driving School in January 2018 and quickly went on to become an expedited driver team for Celadon. They now travel across the country in a 2015 International ProStar with their dog, JoJo, often hauling time-sensitive freight for companies like UPS, FedEx, and Amazon.
The couple says they couldn't be happier with their new lifestyle, which Cobb says allows them to make money while still getting to live their dream.
"We both love being out here," Cobb says. "It's awesome. Even when we stop places or go home or stop to visit people after like a day we're itching to get back on the road."
That drive is apparent to their supervisors at Celadon, who nominated Cobb for the Mike O'Connell Trucking's Top Rookie Award presented by Truckers News. Following the selection process, Cobb recently learned he is one of nine finalists for the award.
"We were very excited," Cobb says. "That's a really big deal for us, out of the whole nation, to be one of the top nine rookies of the year. That's awesome. I mean, prizes and all are cool too, but we're both very hard workers, and we try to do our best with everything we do, so to see that pay off means a lot to us."
Now when Cobb looks at his future, it seems a little brighter. He's hoping to use some of the prize money he wins to purchase a new camera so that he can once again enjoy one of his favorite pastimes, photography.
"I look forward to bringing it out on the road and stopping and doing photography all around the country," Cobb says. "I'm very excited about that. I think it would be cool to one day put together a book or something."
In the meantime, Cobb says he can't imagine doing anything else.
"Trucking is the answer to my prayers," he says.
The Trucking Top Rookie award winner will receive $10,000 cash and a package of prizes. The remaining eight finalists will each receive $1,000 cash as well as additional prizes.
The winner will be announced during a ceremony on the America Strong stage in Hall "A" at 1:30 p.m. Friday, Aug. 24 at the Great American Trucking Show at the Kay Bailey Hutchison Convention Center in Dallas.
The full list of finalist includes:
James Bell – Stevensville, Montana; Jim Palmer Trucking; Sage Truck Driving School
Matthew Donahue – Weedsport, New York; H.O. Wolding; National Tractor Trailer School
David Drummond – Philadelphia, Pennsylvania; Melton Truck Lines; Allstate Careers
Terrence Goodau – Springfield, Missouri; Tri-State Motor Transit; Midwest Technical Institute
Larry Maser – McKinney, Texas; Stevens Transport; Stevens Training Academy
Darrell Philpott – Martinsville, Virginia; Epes Transportation Systems; CDS Tractor Trailer Training
Quinton Ward – Westville, Florida; Werner Enterprises; U.S Truck Driving School
Partnering with Truckers News in the search for Trucking's Top Rookie are the three national organizations overseeing truck driver training:
Commercial Vehicle Training Association
National Association of Publicly Funded Truck Driving Schools
Professional Truck Driver Institute
Sponsors giving prizes to the finalists include:
RoadPro Family of Brands
Cobra
Rand McNally
The Trucking's Top Rookie winner receives:
$10,000 cash
More than $1,000 worth of DAS Products merchandise including a BlueParrott B450XT headset, RoadPro saucepan, Garmin Speak, Rand McNally tablet with GPS and dash cam, Plantronics earbuds, Black Canyon Hi-Impact gloves, Black Canyon canvas backpack, and a Road King 5640 CB radio and mic
ClearDryve 200 two-in-one headset and stereo headphones and a Deluxe Motor Carriers' Road Atlas from Rand McNally
A 29 LX MAX CB radio and a Dash 2308 Super HD Dash Cam with iRadar from Cobra
A custom plaque from Award Company of America
Feature story in Truckers News
Interview on Red Eye Radio Network with Eric Harley
The other eight finalists will receive:
$1,000 cash
$100 worth of DAS Products merchandise
ClearDryve 200 two-in-one headset and stereo headphones from Rand McNally
A Dash 2308 Super HD Dash Cam with iRadar from Cobra
A custom plaque from Award Company of America
Recognizing the top rookie driver was the idea of the late Mike O'Connell, who was formerly the executive director of the Commercial Vehicle Training Association. He believed that honoring a top rookie driver helped show new drivers they are appreciated by the trucking industry.