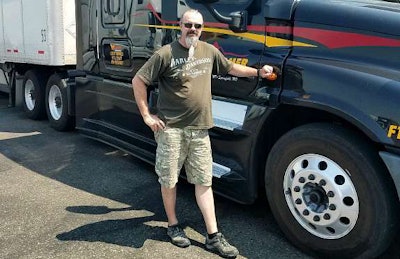 Editor's Note: Between now and Friday, Aug. 24, Truckers News will profile the finalists in its annual Mike O'Connell Trucking's Top Rookie Award, which will be presented at the Great American Trucking Show in Dallas.
___
James Bell only has one regret about his truck driving career: not doing it sooner.
"The whole time I was a heavy-equipment operator in construction, we'd have guys move equipment, and I should have gotten my CDL many, many years ago," Bell says. "But I never did because we always had somebody moving our equipment for us. But I wish I had. I wish I'd started driving a truck years and years ago."
Bell decided to finally become a truck driver this past winter, when he moved to Montana and found construction work difficult to find. He says he happy to have a job that is available year-round, regardless of the weather.
"With a CDL, you can pretty much find work anywhere in the country, it doesn't really matter what age you are or whether you're a man or woman," he says.
Although CDL classes and driver training took a little longer for Bell because he had to return home for National Guard training, he finally graduated from Sage Truck Driving School in February and is now a proud company driver at Jim Palmer Trucking in Missoula, Montana. He is a regional dry van operator, working in 11 Western states, including his home state of Montana.
Bell's pride in his work and drive to succeed is obvious to his supervisors, who recently nominated him for the Mike O'Connell Trucking's Top Rookie Award presented by Truckers News. Bell is now one of nine finalists up for the award.
"I was surprised that they even put me in for this," Bell says. "I just do my job. I'm not all about recognition. I do my job—it's what I signed up to do. If I tell you I'm going to deliver the load as quick as I possibly can, that's what I'm going to do. It just surprises me because I don't feel like I do anything above and beyond. I do my job to the best of my ability every day."
Bell says that driving is more than a paycheck to him though — it's something he truly enjoys. He says that trucking suits his "nomadic" way of life and love for traveling and that he plans to keep doing it until he retires. In addition, Bell has decided to truly commit to trucking by buying his own truck soon.
"Any money I get from this, I'm putting it toward my truck fund," he says. "I hope to own a truck within two months. My goal is to be an owner-operator."
The winner will be announced during a ceremony on the America Strong stage in Hall "A" at 1:30 p.m. Friday, Aug. 24 at the Great American Trucking Show at the Kay Bailey Hutchison Convention Center in Dallas.
The full list of finalist includes:
James Bell – Stevensville, Montana; Jim Palmer Trucking; Sage Truck Driving School
Adam Cobb – Deltona, Florida; Celadon Trucking; Sage Truck Driving School
Matthew Donahue – Weedsport, New York; H.O. Wolding; National Tractor Trailer School
David Drummond – Philadelphia, Pennsylvania; Melton Truck Lines; Allstate Careers
Terrence Goodau – Springfield, Missouri; Tri-State Motor Transit; Midwest Technical Institute
Larry Maser – McKinney, Texas; Stevens Transport; Stevens Training Academy
Darrell Philpott – Martinsville, Virginia; Epes Transportation Systems; CDS Tractor Trailer Training
Quinton Ward – Westville, Florida; Werner Enterprises; U.S Truck Driving School
Partnering with Truckers News in the search for Trucking's Top Rookie are the three national organizations overseeing truck driver training:
Commercial Vehicle Training Association
National Association of Publicly Funded Truck Driving Schools
Professional Truck Driver Institute
Sponsors giving prizes to the finalists include:
RoadPro Family of Brands
Cobra
Rand McNally
The Trucking's Top Rookie winner receives:
$10,000 cash
More than $1,000 worth of DAS Products merchandise including a BlueParrott B450XT headset, RoadPro sauce pan, Garmin Speak, Rand McNally tablet with GPS and dash cam, Plantronics earbuds, Black Canyon Hi-Impact gloves, Black Canyon canvas backpack, and a Road King 5640 CB radio and mic
ClearDryve 200 two-in-one headset and stereo headphones and a Deluxe Motor Carriers' Road Atlas from Rand McNally
A 29 LX MAX CB radio and a Dash 2308 Super HD Dash Cam with iRadar from Cobra
A custom plaque from Award Company of America
Feature story in Truckers News
Interview on Red Eye Radio Network with Eric Harley
The other eight finalists will receive:
$1,000 cash
$100 worth of DAS Products merchandise
ClearDryve 200 two-in-one headset and stereo headphones from Rand McNally
A Dash 2308 Super HD Dash Cam with iRadar from Cobra
A custom plaque from Award Company of America
Recognizing the top rookie driver was the idea of the late Mike O'Connell, who was formerly the executive director of the Commercial Vehicle Training Association. He believed that honoring a top rookie driver helped show new drivers they are appreciated by the trucking industry.