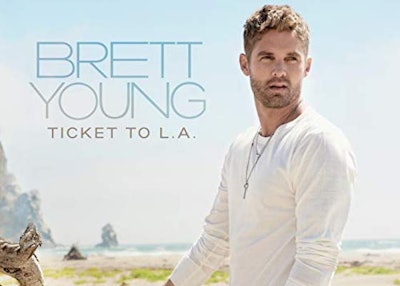 Country singer-songwriter Brett Young is paying homage to his Southern California roots with his latest album, "Ticket to L.A.," due out Dec. 9.
Young co-wrote "Ticket To L.A.," the album's title song, with Zach Crowell and Jon Nite. The album features 13 tracks in total.
"I knew we had to name the album after 'Ticker To L.A.' because that title sums up such a big part of my life," Young told Billboard. "I've spent a lot of hours flying back home to Los Angeles from Nashville. It was a tough season when I first made the move, but so much has changed in my life since then, and I'm in such a happy place. I think you can feel that shift in the new music too, so I can't wait for people to hear the album."
The album is available for preorder on Amazon and iTunes.
The album's track list:
1. Ticket To L.A.
2. Here Tonight
3. Catch
4. 1-2-3 Mississippi
5. Let It Be Mine
6. Where You Want Me
7. Used to Missin' You
8. Change Your Name
9. Chapters
10. The Ship And The Bottle
11. Reason To Stay
12. Runnin' Away From Home
13. Don't Wanna Write This Song