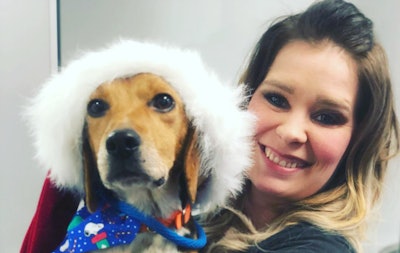 UPDATE: New York State Police today say a $16,500 reward fund has been created in connection with the case of two dogs thrown out of an SUV on I-81 last week.
They posted on Facebook this morning, "Several local, state and national animal welfare agencies and private donors are now offering a total of $16, 500 reward leading to the conviction of the person(s) responsible after the case has gained national attention. The following agencies have contributed: the Animal Legal Defense Fund $10,000, People for Ethical Treatment of Animals $5,000, the New York State Humane Association $1,000 and a private donation $500."
Our original story:
Late last week we reported on a trucker driver who stopped in a tractor-trailer in the left lane of Interstate 81 in Upstate New York to rescue two dogs which had been thrown out the window of a moving SUV. The Syracuse trucker, identified only as Adam, was joined by two New York State Troopers who administered first aid.
The dogs received veterinary care and the troopers continue to look for the vehicle from which the dogs were thrown. And, the trucker has said he'd like to adopt both dogs, now named Adam and Trooper, both of whom are being cared for at the Broome County Humane Society.
Trooper Aga Dembinsta, public information officer at the post in Homer, New York, this morning said an investigator is reviewing phone calls and emails about the case. She also said interest has been expressed about creating a reward fund for information about the case.
Trooper Dembinsta also said one of the dogs had a leg so severely injured that it had to be amputated, She said the dog is doing well.
Not surprisingly, the tale of Adam and Trooper and the kindness of the truck driver swept the internet. The NYS Trooper's Facebook post of Friday, Dec. 14 received more than 14,000 "likes", almost 30,000 "shares" and 4,300 "comments".
There has been an outpouring of thanks and support from Adam the truck driver and the troopers who stopped to help. Likewise, there has been a flood of criticism and scorn for the people who tossed the dogs from the moving vehicle troopers have identified as an "older Dodge Durango described by trucker Adam as "very dirty and had rust along the hatch near the bumper area."
The Troopers said on Facebook, "The vehicle was traveling south on I-81 between the Marathon and Whitney Point exit at approximately 9:30 a.m. Wednesday, anyone with information is asked to call SP Homer at (607)749-1614."
Here's a sampling of what people have said on the Facebook pages of the Troopers, the Humane Society and Truckers News.
Sharon Rappleyea Pushman: I hope they find them and toss them from a moving vehicle. Makes me sick.
David Scott: WTF Is wrong with some people. Thank you driver.
Nicole Risalek: I sincerely hope the dash cam of Adam's truck can bring justice for these poor babies. And Adam has expressed his wishes of adopting both of them. He has already proven he has a big heart and these pups would have an amazing life with him. Please let that happen too❤
Dorothy Marshall: I have Christmas gifts for both dogs I will be dropping off.
Tim Williams: Thanks driver you're awesome.
Catherine Bowers: I hope that the dash cam caught the plate number! Whoever did this needs to be charged!
Karen Wilson Carpenter: That truck driver is a hero in my book and the culprits should be jailed and their privilege to drive taken away …
Thomas Williams: They should do the same thing to them.
Jean M. Putcha: That hero truck driver has a heart of gold! 🚚💛
Emily M. Herbst: Our Lucy (beagle) sends her best wishes to Trooper and Adam, and her heartfelt thanks to the truck driver and Troopers who helped them. (We'll be sending a check).
Eddy Martinez: I wished I found them…I'm about to go to the shelter to adopt one.