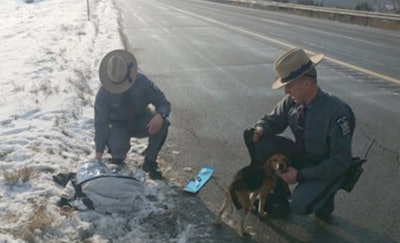 A truck driver stopped to rescue two dogs that had been thrown out the window of an SUV on southbound Interstate 81 between Binghamton and Syracuse, New York Wednesday, Dec. 12, morning.
WICZ-TV in Binghamton reports the trucker saw the dark-colored SUV slow down on I-81 between Marathon and Whitney Point and the dogs being thrown out the window. The trucker, identified only as Adam from Syracuse, stopped an began to help the two injured dogs.
Passing New York State Troopers saw his tractor-trailer stopped with its door open and pulled over and began providing first aid. Personnel from the Broome County Humane Society arrived and transported the injured dogs — now being called Adam and Trooper in honor of their rescuers — to a veterinarian.
Trooper is said to have numerous serious injuries while Adam is in good condition.
Adam, said to be a dog owner himself, may be able to provide even more help. Troopers say his truck is equipped with a dash cam that may have recorded the incident.