Here at Truckers News, we have the privilege of getting to know drivers from all corners of the American trucking industry. These five drivers represent some of the best of the best, from the 2018 Mike O'Connell Trucking's Top Rookie award winner to champions to a driver who loves trucking so much that he legally changed his name to represent the industry.
Click on each driver's name to read our original profiles on them:
1. Mordaunt "Platt" Brabner: TMC Transportation driver Mordaunt "Platt" Brabner served in both the Marines and the Navy as an aviator, and saw 91 countries during his time in the service before he decided to pursue a trucking career. He was named the winner of the 2018 Mike O'Connell Trucking's Top Rookie award, presented by Truckers News, during a ceremony at the Great American Trucking Show in Dallas in August. Brabner has put over 120,000 miles over the road on his company truck in his first year with TMC Transportation, hauling everything from mushrooms to steel.
2. Joe Hicks: XPO Logistics driver Joe Hicks has a long history of competing in the Rhode Island trucking championships and was named the 2018 grand champion after also winning first place in the 3-axle class. He was named the state level Rookie of the Year in 2010 and went on to win that same title on the national level later that year. Now Hicks' four sons, inspired by their father, are all looking at starting their own trucking careers and competing in their own right.
3. Jeremy Thomas: FedEx Freight driver Jeremy Thomas has only competed in the West Virginia Truck Driving Championships twice but he's already racking up awards. Thomas was the state's 2017 Rookie of the Year and was named the state's 2018 grand champion. Thomas started competing as a way to spend more time with his father, Randy, who is also a truck driver and has been a longtime competitor in the West Virginia trucking championship. While he only recently started competing, Thomas has been trucking for 13 years with eight of those years spent at FedEx.
4. Diesel Trailer Truck: Werner Enterprises driver Diesel Trailer Truck grew up with a love for the trucking industry, and he decided to pay tribute to the industry he loves by formally changing his legal name. Diesel has been a company driver for Werner since 1986 and has driven over 3.5 million miles with the fleet. He also served in the U.S. Army from 1980-1984 and then went into the reserves for two years until 1986.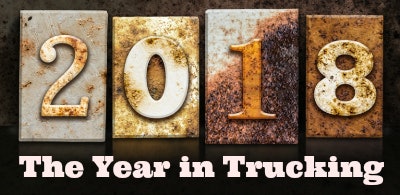 5. Scott Woodrome: FedEx Freight driver Scott Woodrome has competed in the Ohio Truck Driving Championship 13 times, winning each time. His countless hours of training paid off this year when he was named the American Trucking Associations' 2018 National Truck Driving Grand Champion in August. While this was his first year taking home the overall national title, it wasn't Woodrome's first win on the national level. He was the 2015 National Flatbed Champion, as well.