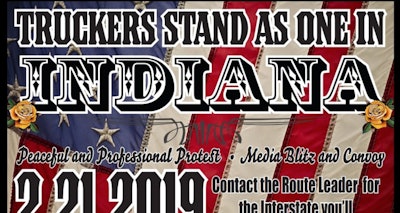 Some truckers in the Midwest plan to express their displeasure Thursday with several issues, including hours of service regulations, mandated electronic logging mandates and the need for truck parking by driving slowly around Interstate-465, which rings Indianapolis. This is the latest trucker protest, and similar to a "slow roll" staged in last month on Interstate 57 in Illinois.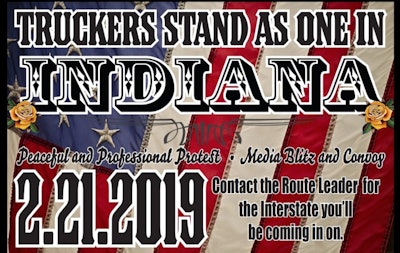 This latest "slow roll" begins at 11 a.m. Central.
Not surprisingly, the protest drew plenty of comments when the story posted to the Truckers News Facebook page.
It also attracted the attention of the Indiana Motor Truck Association. In an item posted to Facebook today, the association said in part:
"The IMTA is not affiliated with this protest and does not support this method of protesting. We are working hard with our federal partners to help change the HOS which is gaining traction. Data from technology is a large part in helping initiatives in our industry.
"Although the trucking industry doesn't always agree on solutions, you can't argue we are all passionate about what we do in the industry.
"To the protesting truck drivers, the state police and the motoring public, please be careful during this time.
Among the comments on the Truckers News Facebook page were these:
Kevin Saxby: If drivers would be responsible and not run illegally we would not be talking about this right now. So thank your fellow drivers for this.
Charles Jenkins:
Go get'sm guys and gals.
Donald Blakeley: Just have to do away with the continuous running clock that's the problem.
John Cater: I love how many people are bashing this … I wonder is it because most of these new age driver's are used to having their hands held by the federal government? … Or is it because no one has the balls to stand for something and say what needs to be said? … Seems like most … not all!! … have that (as long as I get my miles and a paycheck on Friday nothing else matters mentality). Oh and I love the ELD lovers and their typical b.s response (the reason why eld's are here is because of cheating) … Lmao yea keep telling yourself that!
Mike Cody: Stupid!! Just make the public dislike truckers more!!
Howard Bailey: If you don't shut all trucks down for at least a week you're not going to get anybody's attention just a waste of time.
Roger L Jr Drumm: Need to shut down on the interstate.
Marvin Kauffman: I call b.s. Every trip around I-465 is a slow roll because if it's not morning or evening rush hour traffic going slow, its all the potholes you have to dodge.
Kelly Duby: All you guys that got mad at the protesters blocking the roads, this is basically the same thing. You are creating a hazard, impeding traffic, and keeping other people from getting to or from their jobs. So is it ok for you because you support this cause? It wasn't ok for them because it interfered with what you wanted to do?
James Daniels: Protest? With all those bobtailing it looks like a truck show just ended.
Paul Bickley: Improvise, overcome, adapt, or get over it …
Rick Loschen: Until you get the big companies involved, it will go nowhere.
Brian Monasmith: I at one time thought that this type of action would help it industry but I now believe that it makes it industry look like a bunch of idiots! I believe that are better ways to get the point across! First by coming up with better options! And not just demanding things that are not feasible! Good luck guys but step up and be professionals we have a bad rap and this is going to make it worse! Start picking up after our selves! Don't throw your trash out! Don't drop your "trucker bombs" on the side of the road. You want respect earn it!
Nick Hovey: Everyone blaming the "cheaters". I bet 90% of all you boys who love your ELDs so much aren't completely legal. Your "cheating" to a certain extent someway, somehow. Rolling around so slow so that it doesn't kick to the driveline is cheating. I see that crap a lot …
Ray Rickman: Glad I won't be there.
Ralph Nye: Godspeed my brothers.