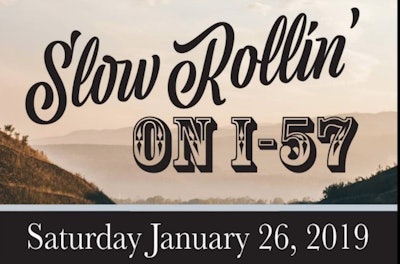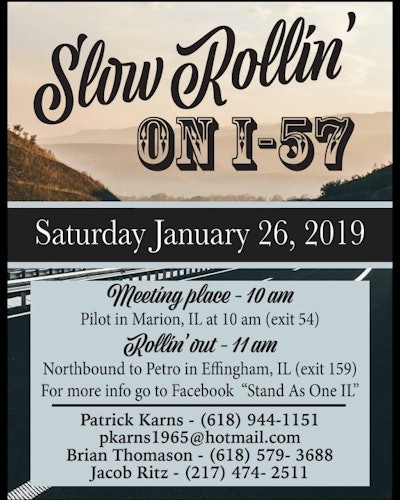 The group organizing a one-day truckers shutdown in April is taking what might be considered a test drive today as it plans a "slow roll" on Interstate 57 in southern Illinois. However, the Illinois State Police are calling today's planned protest "dangerous" and warning participating truckers could face arrest and be held liable for any crashes it could cause.
Black Smoke Matters, the Facebook group organizing the one-day, nationwide shutdown April 12, plans to have a convoy of trucks meet near Marion, Illinois at 10 a.m. Central and drive at 50 mph to Effingham 100 miles away.
Like the planned larger shutdown in April, today's slow roll is meant to draw attention to the group's agenda, which includes:
making use of mandated electronic logging devices voluntary
improved truck parking
increased "cybersecurity" to protect drivers from potential tampering with trucks' onboard technology
changes to federal hours of service regulations
improved training of new drivers
a way for truckers to be more directly involved with the rulemaking process
However, a statement from the Illinois State Police warns of problems for both truckers in the slow roll protest and other motorists. ISP wants all motorists to abide by traffic laws "for the safety of all."
"A planned event designed to impede normal traffic flow is dangerous to the innocent motoring public," said ISP Southern Patrol Commander Major Chris Owen in a statement on the department's Facebook page. "Those who choose to participate in events that intentionally endanger the public and violate Illinois law will be subject to the enforcement of applicable laws and could potentially be held liable for traffic crashes occurring as a result of their actions. The Illinois State Police urges all motorists to abide by traffic laws for the safety of all.
Owen's statement continues, "Though the Illinois State Police respects the rights of citizens to express their opinions in a lawful manner, there is great concern with any event that is designed to impede or block the normal and reasonable movement of traffic. Traffic backups are a major contributing cause to traffic crashes, which lead to property damage, personal injury, and possibly death."