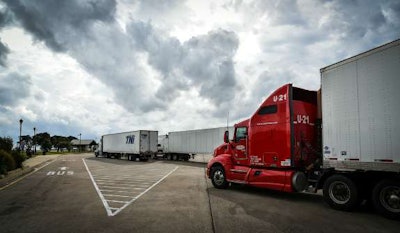 Truck parking is, let's face it, a pain. Often a large one. Anti-ELD folks say parking is getting worse, if not impossible, because of the mandated electronics. This She Says column by Linda Caffee, which originally appeared on the Freightliner Team Run Smart website, offers a different view.
—
A place to park our trucks is not a privilege nor an entitlement. States have to maintain rest stops and travel centers have to maintain their parking lots. As of right now our taxes are paying for the rest areas but many of them have closed and I have heard that there are states looking at commercializing their rest areas. Once a parking lot is on a commercialized lot someone has to make money or the lot will close. None of the parking lots I know of are run by a charity. Real estate is not free and I can only imagine the taxes that they must pay in some of the prime real estate areas.
We are either drivers or owner-operators and none of us want to lose money as we drive down the road. Our goal overall is to make money and be profitable. Just imagine what it would be like to own a truck stop for a bit. For many of us we fuel where we get the biggest discount and after fueling we often pull in a parking stop for the night. How many at that point eat in their truck? Drop their trailer to run into a big box store to stock up on supplies? Only going into the truck stop to use the restroom or get a shower. The truck stops profit is not in our discounted fuel.
As time is moving on with the ELD mandate in place it seems as if the travel plazas parking is more crowded. Many of the rest areas at night are full of parked trucks, often making it impossible to use their facilities so we are back to using the parking lot at the travel plazas to run in and use the restroom and not purchase anything. More wear and tear on a parking lot with no purchase. How much can a travel plaza give away and still be profitable?
Look around at the "travel plazas" and see how many used to be called "truck stops". The wording changed as truck stops started looking for ways to stay profitable as the motoring public stopped using truck stops and used their many choices. Henry Albert wrote an interesting blog about this "You get what you pay for" In my mind the motoring public is what has kept the pay to park at bay for many years. Now that too is not enough to be profitable and the advent of pay to park.
Prices range from as little as $8 to as much as they can get in higher traffic areas. As time has progressed over the past few years there are times when the pay to park is full and there are empty stops in the free parking. Personally, I have found that if we know we will need a place to park later in the evening, pay to park equals peace of mind where in the past our stress level would be up wondering how long it would take us to find a safe parking spot.
In the future will shippers and receivers use their extra space for trucks to park as they wait for a load as a profit center or a negotiation item? We deal with many customers that allow truck parking when waiting to pick up or deliver a load. What happens when they realize how profitable that parking area could be for them?
Paying to park is in all of our futures I believe and will be a cost of doing business I will gladly pay to keep the travel centers from closing their doors. What would happen if just one of the major travel centers closed and locked their doors as well as their parking lots? Pretty scary to think about.
About the Author: Bob and Linda started their driver careers after their children left home for college in 2000. Bob started as a driver for a large motor carrier with Linda as a rider. They decided to enter the expedite industry as team drivers in 2005 and purchased their first Freightliner. Both, Bob and Linda have had their Class A licenses since the early '80's starting out driving in the oil field and hauling grain as fill in drivers where Bob worked as a diesel mechanic. Linda worked at the local country courthouse in data processing.