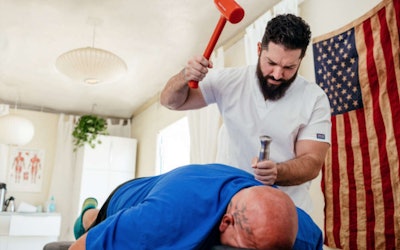 "This is gonna be a little be painful, but you'll feel way better afterwards," says Dr. Beau Hightower to one of several truck drivers who joined him in his mobile chiropractic clinic in a trailer with "Neck Pain Relief" in big letters along each side.
Hightower normally treats mixed martial arts fighters but in a video promoting Volvo's new Dynamic Steering technology, the good doctor is cracking the necks and hammering the backs of truckers.
A news release about Hightower's work and Volvo's new steering product says, "In the recent survey commissioned by Volvo Trucks, more than 80% of professional drivers say they experience pain in their backs, necks and arms due to the long hours behind the wheel, bad road conditions and vibrations in the trucks' steering."
Hightower adds: "These professional drivers are pushing their bodies to the limit. Over time they can develop serious muscular imbalances which create bone problems. They can have nerve issues where they start to lose the feeling in their hands, and headaches could start showing up."
Not surprisingly, the company says Volvo Dynamic Steering makes driving easier and less painful for truckers, as well as safer by reducing fatigue.
Volvo is well known for its attention-grabbing videos. Its video of action star Jeane-Claude Van Damme doing the splits between two trucks has been viewed 93 million times. Its "Look Who's Driving" video of a 4-year-old girl driving a truck by remote control amassed 23 million views online.