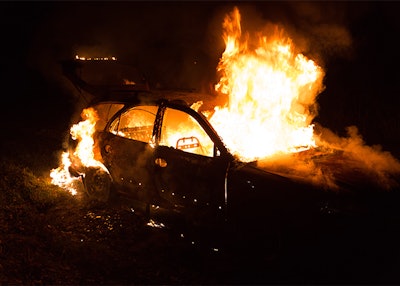 We always need good news, but especially so at this is the time of year when everyone and everything is supposed to be "merry and bright."
So here's a big dose of good news, courtesy of some cops in Kansas. It's about a young trucker who saved a family of four from their burning car parked alongside a highway in Kansas earlier this month.
The trucker, 29-year-old, Yevgeniy Lomakin of Vancouver, Washington, was driving on Highway U83 just north of Selden, Kansas. At about mile marker 193, the trucker spied flames coming from underneath a 2000 Pontiac Grand Am parked on the side of the road.
Lomakin stopped and saw Shannon Harris of Colby, Kansas and her three kids asleep in the smoke-filled car and unaware of the fire. The trucker roused them from their sleep and got the two youngest children out of the car. He got them out of the single-digit cold and into his truck, out of harm's way and called 911.
If that wasn't enough, Lomakin gave the family some cash for Christmas before continuing his trip.
As the Sheridan County Sherrif's Department added in their Facebook post (see it below) about the incident, "Yevgeniy, there is no way we can thank you enough for your heroism."