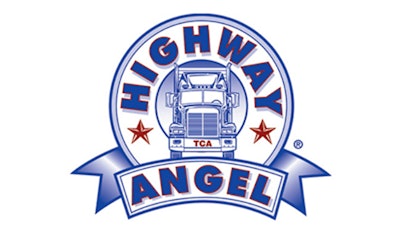 A veteran Canadian truck driver has been recognized for helping a motorist at the scene of an early-morning accident.
The Truckload Carriers Association recently named Jeffery Zeeb, who drives for Bison Transport, a Highway Angel, for stopping to assist a motorist who hit a fallen tree in the roadway and directing motorists away from the scene.
TCA explains what led to Zeeb being honored:
It was 3:30 a.m. on Aug. 18, and Zeeb was on a return leg from Sicamous, British Columbia, heading home to Revelstoke, B.C. As he came around a blind curve, Zeeb saw a car struck a tree that had fallen across the road. The area was dark, and it was rainy and foggy making it nearly impossible to see the tree in time to avoid it. The impact knocked out the car's electrical system, leaving the car dark. Zeeb says the vehicle was simply a black mass in the night and he only saw it when his lights hit off the back reflectors.
Zeeb stopped and rushed to check on the driver. The car had sustained significant damage but the driver appeared to be okay, although shaken and confused. Zeeb advised her to remain in her vehicle and called the Royal Canadian Mounted Police, requesting a tow truck and a highway crew to remove the tree from the roadway. Zeeb set up flares, road safety triangles, and a warning light at the curve to alert other motorists. He then directed traffic to the open lane. It took 45 minutes for help to arrive.
Zeeb has been driving for Bison since Nov. 2018. Before that he worked for Greyhound for 13 years. He credits over 20 years of experience, and learning from veterans, for helping him safely take control of a situation that could easily have impacted more vehicles.
TCA presented Zeeb with a certificate, patch, lapel pin, and truck decals. His employer has also received a certificate acknowledging their driver as a Highway Angel.
Since the program's inception in August 1997, hundreds of drivers have been recognized as Highway Angels for the exemplary kindness, courtesy, and courage they have displayed while on the job.
EpicVue sponsors TCA's Highway Angel program.