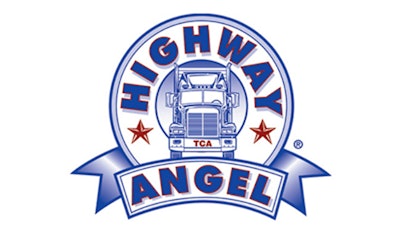 A Michigan trucker was recently recognized for doing "the right thing to do."
The Truckload Carriers Association has named Frank Martin, a driver for Veriah Trucking from Menominee, Michigan, a Highway Angel, for stopping to help a couple after their vehicle left the road during icy road conditions and rolled down an embankment in Minnesota.
TCA sets the scene:
On Dec. 10, 2019, the road conditions were poor as Martin was heading to northern Wisconsin with a load bound for Duluth. Up ahead, in the southbound lanes, he noticed a large four-door pickup truck losing traction on the icy road and sliding from side to side. It was the only vehicle on that side of the road.
"I think they hit an icy patch coming around the bend and couldn't recover," said Martin. All he could do was watch as the driver lost control, hit the median, and skid off the road. "He went tail end over front end and when he got to the bottom of the ravine he then went side overside. I pulled over and called 911 as I was running across the road."
When Martin reached the vehicle, it was lying on its side, driver's side up. There was a middle-aged couple inside, conscious, and still in their seat belts.
Without a moment to spare, Martin climbed up on the driver's side of the truck and opened the door. The driver was pressed up against the passenger, pinning her against the passenger door.
"His seat belt was jammed and we couldn't get the latch to release," shared Martin. "I asked if they were hurt or bleeding but they thought they were okay. I could tell they were scared."
He ran back to his truck and grabbed a blanket. He then handed it down into the truck so the couple could stay as warm as possible. Martin was able to help the driver lift himself off the passenger a bit, which helped to calm her. Emergency vehicles arrived 25-30 minutes later.
"I love trucking," Martin said. "My grandfather was a trucker. I'd go out with him as a kid and if he'd see a car broken down or an accident, he'd stop to make sure everyone was okay. That left a big impression me. To me, it's still a brotherhood. There are a lot of good truckers out there and a lot of us want to make a difference. That's a big part of why I stopped that day. Helping people out when they're in trouble is more important than getting a load in on time. It's the right thing to do. If it were my family, I'd want someone to stop."
For his willingness to assist others, TCA presented Martin with a certificate, patch, lapel pin, and truck decals. His employer has also received a certificate acknowledging their driver as a Highway Angel.
Since the program's inception in August 1997, more than 1,250 professional truck drivers have been recognized as Highway Angels for the exemplary kindness, courtesy, and courage they have displayed while on the job.
EpicVue sponsors TCA's Highway Angel program.