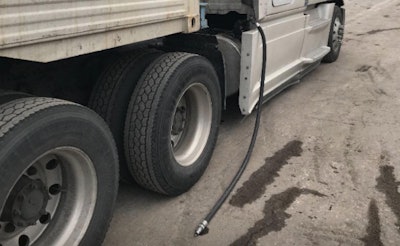 Mistakes happen. Even to the best of truckers. The California Highway Patrol at Truckee in northern California not far from Lake Tahoe found this mistake recently and shared it on their Facebook page. And, of course, folks had plenty to say. Here are a few who added their 2 cents.
Scott Godown: I actually did this once, a driver was trying to warn me but it was to late. The hose and nozzle were made to break away so no damage was done to the pump itself. I simply removed the nozzle, the two pieces clicked back together and everything was ok.
Tom Cubbage: Probably on the phone, in a hurry because of the one size fits all regs on E-logs, and was too distracted and in a rush to bother to hang it back up. Welcome to today's trucking. C'mon CHP, this isn't the same breed of cat we had out here 25 years ago. Ya'll know it just like us "old hands" do.
Valerie Perales: I did that, I was fueling at my yard and didn't realize I did it until I parked and did a walk around and saw the nozzle in the tank with hose trailing behind. Had to do the walk of shame carrying the hose across the yard to mechanic shop to report it.
Kevin Currier: Happens a lot more than most would believe, worked at a Flying J for 3 years and lost count of how many big rigs (and autos) drove off with pump handles with hoses still attached.
Trace Richmond: I have paid $300 for a nozzle/hose that I removed with my vehicle.
Dennis Wilhelmsen: You see out of order pumps everywhere now with the hoses gone and I think it is because people are on their cell phones. Just my opinion but I dont think it used to be so common like it is today but now everyone is glued to their phones.