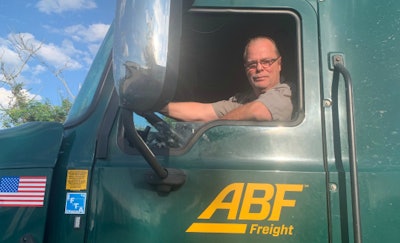 A driver for ABF Freight System, Inc. is being honored for his efforts last fall to ensure the safety of a young driver.
The Truckload Carriers Association named Robert Digrazia a Highway Angel for his actions in extinguishing a vehicle fire and helping save a woman driving a car in Florida.
TCA recounts the events of that day:
On the evening of Sept. 10, Digrazia was on his way to pick up freight in Bradenton, Florida. This is a routine route that takes him through a two-lane residential area near the Sarasota service center. As Digrazia approached the terminal, he saw a car stopped in the roadway with small flames coming from the driver's door. Digrazia pulled up next to the vehicle and saw that the driver, a very young woman was still inside. The flames appeared to be coming from the inside door panel. Digrazia rolled down his passenger side window and yelled for her to get out of the car, fearing that she was in shock and didn't know what to do. There was little time to spare, so Digrazia set the brakes, grabbed his fire extinguisher, and found that the driver's door was now engulfed in flames. Remarkably, the young woman had managed to kick her door open and got out. Since there was no shoulder, Digrazia directed her to stand away from the vehicle while he worked to extinguish the flames.
"She was pretty frantic," said. He assured her that she was safe, and everything was all right. He helped the shaken woman call her father and 911. He then looked over her vehicle and resprayed the door as well as underneath.
Digrazia was dismayed that no one else stopped to help. "Other drivers were just blowing their horns at us," he says. Cars started driving between the young woman's car and Digrazia's truck, so he knew he had to move in order to minimize further risk. But first, he reassured the young woman that everything was okay. He knew her father was on his way so he decided the best thing he could do, since there was no shoulder, was to get back in his truck and move along so that he was no longer blocking traffic. He was relieved the young woman wasn't hurt.
For his willingness to assist his fellow drivers, TCA has presented Digrazia with a certificate, patch, lapel pin, and truck decals. His employer has also received a certificate acknowledging their driver as a Highway Angel.
EpicVue sponsors TCA's Highway Angel program.