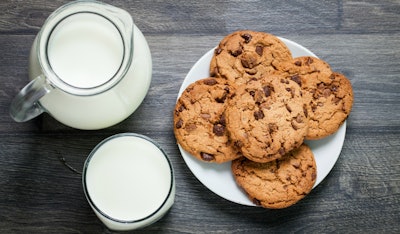 Imagine this for a moment.
You've been driving for six or seven hours and you arrive at your destination, maybe a food warehouse or distribution center. Even before you begin to back up to the dock, a person approaches your rig carrying a glass of milk and a plate of cookies. Then, they say you're welcome to use a clean restroom, settle into a comfortable chair, use their wifi and relax as they unload your trailer quickly.
Then, before you get in your truck to leave, they thank you and tell you they look forward to your next visit. Oh, and if you do need to, you're welcome to park and stay as long as you need.
Nope, that's not a scenario from Bizarro Trucking World, where up is down and black is white and four-wheelers drive as well as you do and give your truck the respect it deserves.
Instead, it's at the heart of what one trucking industry analyst recently told attendees of a food industry gathering.
Robert Voltmann, president and CEO of Transportation Intermediaries Association, was speaking recently in a session called "Hot Topics in Meat Retail" at the Annual Meat Conference (No, really, there is such a gathering!). Supermarket News reports Voltmann told those attending his session, "The driver is the most important part of your supply chain. Treat them right."
We have to ask, has anyone ever said that to you before … at least with a straight face and meant it?
But, Voltmann gets it. Beyond cookies and milk, he knows your time ought to be as important to shippers and receivers as it is to you. And, they ought to treat you as they wish to be treated. Pretty simple, isn't it?
"The most important part of trucking, the whole supply chain, is that driver's hours," he told the meat conference attendees. "If you waste that driver's time, you're going to pay for it. So, as we learned when we were little kids, the golden rule: Do unto others as they would do unto you."
See, I said it was simple.
So is the motivation behind the cookies and milk: make truckers like you and like coming to your facility.
Voltmann made a great point to his audience, but one that escapes many of the customers you serve. He said trucking companies have a choice of who they work with, and it's easier and far less stressful for all involved if they haul the freight of someone they like instead of a customer who is a pain.
"You want that trucking company to want to come to your facility," he said. "You want that trucking company to remember that they were treated right when they came to your facility. If you treat them poorly, they have a choice and they may not come back."
Granted, as a company driver you don't necessarily have control over where you go and who you deliver to. And, in today's shakey freight market, even the most financially stable of companies have to be wary of turning away business even if a customer is a complete and utter jerk.
But, as every analyst is fond of saying, trucking is a cyclical business and freight rates generally trend up after they trend down.
And, we're guessing some of the folks at the meat meeting heard what Voltmann had to say. While you may not be treated to milk and cookies the next time you make a delivery, you should take some comfort in knowing someone is out there advocating on your behalf.
___
David Hollis is the editor of Truckers News. He can be reached at davidhollis@randallreilly.com