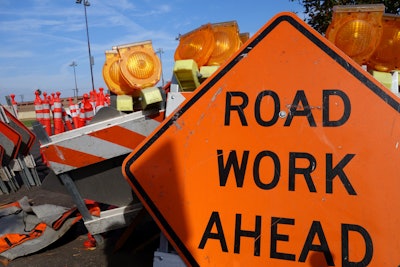 President Joe Biden did something his predecessors Barack Obama and Donald Trump couldn't do: sign a major infrastructure bill into law.
Biden Monday put his signature on long-awaited infrastructure legislation, which contains $1.2 trillion, including $550 billion in new money. Important to the nation's trucking industry is $110 billion for improvements to the nation's highways and bridges, many of which are in need of repair.
There's also:
$73 billion for the electricity grid

$66 billion for railroads, both freight and passenger services

$65 billion for high-speed broadband internet service

$47 billion for climate resiliency

$25 billion for airports

$21 billion for environmental cleanup projects

$17 billion for ports and waterways

$15 billion for removing lead water pipes

$7.5 billion for electric vehicle charging stations

$2 billion for expanded transportation services in rural areas
How that money gets spent will be overseen by the ​​Infrastructure Implementation Task Force, which includes cabinet secretaries, and heads of various government departments. Biden appointed former New Orleans Mayor Mitch Landrieu as White House Infrastructure Coordinator.
During the signing ceremony, Biden said, "... if I visited your town, I'm sure you'd be able to tell me ... where you hold your breath as you cross the particular bridge or where the most dangerous intersection of your town is.
"This law makes this the most significant investment in roads and bridges in the past 70 years."
However, which actual projects will be funded is up to the states.
An analysis by CNBC shows large populous states with major metropolitan areas will get the most money. The top states include:
California: $44.56 billion, including $25.3 billion for highways and $4.2 billion for bridges

Texas: $35.44 billion total, with $2.9 billion for highways and $537 million for bridges

New York: $26.9 billion, including $11.6 billion for highways and $1.9 billion for bridges

Florida: $19.1 billion, with $13.1 billion for highways and $245 million for bridges

Illinois: $17.81 billion, including $9.8 billion for highways and $1.4 billion for bridges

Pennsylvania: $17.8 billion, with $11.3 billion for highways and $1.6 billion for bridges
The American Trucking Associations' President and CEO Chris Spears attended the signing ceremony on the South Lawn of the White House and afterward issued a statement that said:
"From farmers to truckers, the millions of hard-working people who make this country great won today. Those lawmakers who put their constituents before themselves have now cemented a lasting legacy that the American people will see, feel, and use for many decades to come.
"After countless hearings and meetings on Capitol Hill, ATA members will finally see the fruits of their labor—a 38% increase in road and bridge funding, and an infusion of highly-trained, younger talent into our workforce."
Aside from money for highways and bridges, the legislation included provisions of interest to trucking:
A mechanism to recruit more women into the industry

A pilot program to allow 18-20-year-old truckers to drive across state lines
Have Your Say
Now, you can have your say. Use the comments section below to suggest what highways and/or bridges that you use ought to be repaired with some of this money. Or, was something left out of the bill that ought to be included?