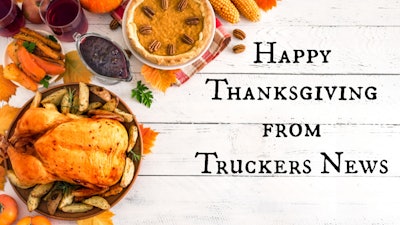 Unlike last year at this time, more Americans are hitting the highways for the Thanksgiving holiday so you should expect to see even more congestion than normal, especially in and around major metro areas.
And, experts are warning that instances of cargo theft are likely to increase between now and early next week.
Friday kicks off the Christmas shopping season, and next week is Giving Tuesday and an opportunity to support trucker-related charities.
No matter where you are, you can enjoy the Truckers Christmas Group's second Christmas Concert Saturday, Nov. 27. Performing this year are Bill Weaver, Ken Freeman, The Stone Creek Four, Laura Joy Music, Jeremiah Craig, and others. During the concert, the group's online store will offer discounts on merchandise donated by supporters.
So, if you're on the road or at home, be sure to have a safe and peaceful Thanksgiving.