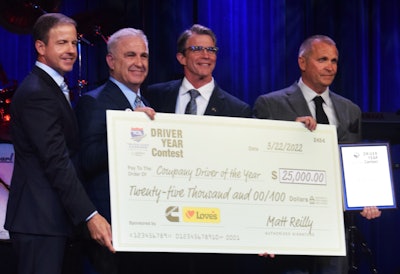 One of the reasons Robert Howell is the 2021 Company Driver of the Year is his outlook about getting started in the industry as a young man growing up in a small town in Idaho.
"I've wanted to drive trucks since I was just little," said Howell. "That's all I've ever wanted to do; either that or farming, and you can't make any money farming. So, I became a truck driver. Every day since, I have dedicated my life to the trucking industry."
That dedication paid off as he was presented with his award Tuesday night on the stage in the Wynn Las Vegas during the closing night gala of the Truckload Carriers Association's annual convention. Aside from the plaque and a rousing standing ovation from the assembled trucking industry luminaries, the 59-year-old Howell also received $25,000.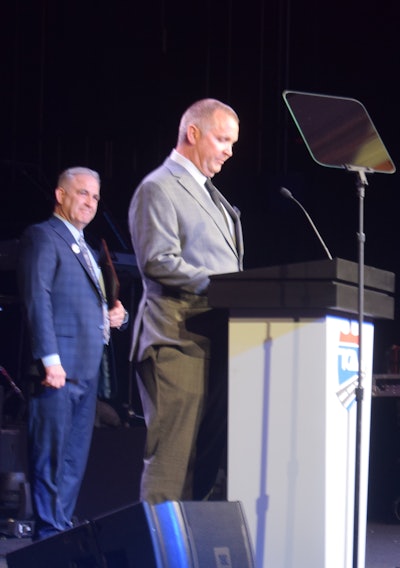 During his acceptance speech, Howell said he was "excited and honored" to accept the award. He also reiterated his affection for his job: "I love being a professional truck driver."
Howell also thanked his employer, Doug Andrus Distributing LLC a family-owned carrier of some 250 trucks and 500 trailers based in Idaho Falls, Idaho. Since joining the company at age of 25, Howell has logged over 5 million accident-free miles and was twice (2006 and 2016) named Idaho's driver of the year.
In nominating Howell for the award presented by TCA and Truckers News and sponsored by Love's Travel Stops and Cummins, Dough Andrus CEO V. Clay Murdoch said of him:
"Internally, we often cite him as the example of the ultimate professional driver. He has literally become the 'poster child' of the company and we frequently use him in our company advertising.
"He is the most dedicated and consistent driver we have ever had. He has the truck driver life figured out. He plans everything from when he will leave, where he will make stops for fuel, and where he will take his breaks, thus ensuring on-time deliveries. He packs meals made at home which allows him to eat healthy while on the road. He also has an on-the-road exercise routine that he faithfully adheres to. This has helped him stay in great shape over the years and has put him in a position to be able to work several more if he chooses."
At this point in his career, Howell intends to keep driving.
"I don't see myself retiring at 65," said Howell in an interview with Truckers News. "What the hell would I do? I've been driving this truck12 hours a day, seven days or so for 35 years."
The other two Company Driver of the Year finalists were also recognized Tuesday night. On stage for the event were Denny Cravener, who drives for Givens Trucking, and Robert Cole, a driver for Ryder serving Houston Plating and Coatings. They each received $2,500.
Also on Tuesday night, TCA and Truckers News sister publication Overdrive recognized Glen Horack of Elkland, Missouri, who is leased to Prime, as the Owner-Operator of the Year.