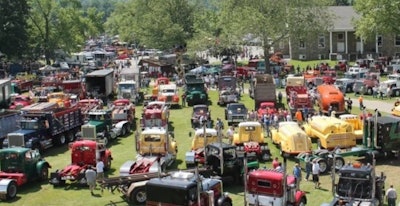 These are the high holy days for fans of antique and classic trucks of all stripes, as the two major organizations focused on old iron hold their annual gatherings.
The American Truck Historical Society stages its annual national convention and truck show June 9, 10 and 11 in Springfield, Illinois. The Antique Truck Club of America convenes its annual national meet June 17 and 18 in Macungie, Pennsylvania.
The ATHS gathering at the Illinois State Fairgrounds will display hundreds of collector trucks and also hold a series of educational programs, its annual membership meeting and its annual awards banquet.
Educational programs include:
How do I properly insure a collector semi?
Fuller Roadranger transmissions
Introduction to the wire harness
Buying your first truck
The early history of the Four-Wheel-Drive Auto Company
Celebrating the 90th anniversary of the Cummins Model H
Early history of the Oshkosh Truck
See the complete schedule here.
In addition to the in-person show, ATHS is once again holding a virtual convention and show online.
Then all roads lead to Macungie Father's Day weekend
For members of the Antique Truck Club of America and other fans of old iron, making the trek to the small Lehigh Valley community of Macungie, Pennsylvania, is how they celebrate Father's Day. The faithful gather in Memorial Park for what amounts to a truck-themed family reunion.
The 42nd annual gathering will be held June 17 and 18 and include:
More than 900 antique (25 years old or older) trucks
A flea market
Craft show and sale
Food stands
PODCAST: Truck show faithful will return to Macungie, Pennsylvania in person June 18-19
RELATED NEWS: Hear all about the expansion of the Iowa 80 Truck Stop's Truck Museum