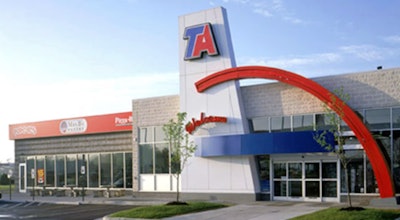 On Wednesday, May 10, TravelCenters of America Inc. stockholders voted in a special meeting to approve BP's $1.3 billion purchase offer. The deal is expected to be finalized Monday, May 15.
TA will become a wholly-owned indirect subsidiary of BP p.l.c., the major British energy company
As previously announced, under the terms of the merger agreement between TA and BP's wholly-owned subsidiary, BP's wholly-owned subsidiary will acquire all of the outstanding shares of TA common stock for $86 per share in cash. The transaction price represents an 84% premium to TA's average trading price over the 30 days ending Feb. 15, the date the BP merger agreement was signed, according to a statement from TA.
TA stockholders approved the BP merger with more than 72% of the shares outstanding, and 93% of the total shares voted in favor of the merger.
RELATED NEWS: Travel Centers of America to install 1,000 chargers for battery electric vehicles
When the deal was first announced in February, Dave Lawler, chairman and president of bp America said, "Subject to approvals, we look forward to welcoming the TA team to bp. TA's amazing nationwide network of on-highway locations combined with bp's more than 8,000 off-highway locations have the potential to offer travelers and professional drivers a seamless experience for decades to come."
The closing of the transaction remains subject to customary closing conditions, according to TA's statement. Upon completion of the transaction, shares of TA's common stock will be canceled and will no longer trade.
The vote also ends an effort by ARKO Corp.'s effort to acquire TA. The board of directors of TA recommended against ARKO's offer of $93 per share, questioning that company's financing.
TA operates 281 locations in 44 states.